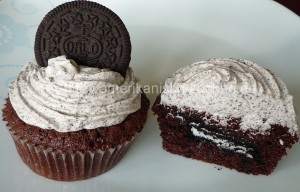 Recipe: Cookies 'n' Cream Cupcakes
Ingredients:
For 12 Piece
24 strong chocolate double biscuits with vanilla filling without cover (For example, from Oreo ®)
3 Eggs
1 Taken Salz
160g sugar
1 Tsp vanilla
160g Butter ,Room temperature
100g wheat
30g cornflour
30g Kakao (Not Back-Kakao/Zur unsweetened cocoa is also normal, but reduce the sugar a little)
1/2 TL Backpulver
70 ml of milk or buttermilk, Room temperature (Buttermilk makes the cupcakes juicier)
Creme:
230powdered sugar, sieved
115g Butter, Room temperature
1 Pck. Vanilla Sugar / Vanilinzucker
1Taken Salz
other Kekshälften, finely crumbled
2 THE Milch
Optional: Additional cookies as decoration
Preparation:
For these delicious cupcakes, first the oven to 160 ° C. (Convection) preheated.
12 The cookies are then separated by slightly turning, the white filling scraped and placed in a bowl.
12 the 24 Kekshälften be coarse crumbs, the remaining biscuits for the cream to the side provided.
In a bowl, stir the butter with the sugar and the Vanilinzucker, until the mixture is frothy. Then added the eggs and are also being stirred.
The flour is with salt, Cornstarch, the cocoa and baking powder mixed and, alternately with the milk to the butter mixture and blend like the Keksstückchen.
Thereafter a little spread of the dough on the bottoms of the molds, one complete cookie placed on top and gently pressed. Upon completion, will be given out dough, so that the cookies are completely covered.
The muffins have to 25-30 Minutes until (It is recommended, to use a muffin tin. The muffin tins are without stopping often unstable and keep the dough when baking not then in the form.)
After the baking time it is allowed to cool down. Thereafter, they are removed from the mold, allow them to cool completely.
For the cream is first taken out the cookie filling with the butter, Salz und dem Vanilinzucker / Vanilla Sugar mixes.
The Buttercream frosting is too sweet, He can replace it also with cream cheese frosting and just mix the Graham cracker crumbs there. The recipe here is there at the Vanilla Cupcakes
Then the icing sugar and, if needed, add the milk and stir well. The remaining Kekshälften crumble very finely and add to the cream.
Then it can be filled in a pastry bag and distributed to the cupcakes.
As a decoration still a half or whole cookie on top can be put on it.
We wish you much fun with the try!

103 Responses to "Cupcakes mit Oreos"